Winters in Hamilton can get pretty cold, so its important for homeowners to have an efficient heating system. While you may be familiar with gas furnaces or electric heat, a form of heating that you may not have heard of – or may not be familiar with – is hydronic heating.
What is Hydronic Heating?
Hydronic heating is a heating system that uses tubing under the flooring. Hot water is pumped through the tubes in order to heat the home. A hydronic system may be used on its own or in conjunction with other heating systems as it will not interfere with existing ducts. The heat from the hydronic system is controlled with a thermostat.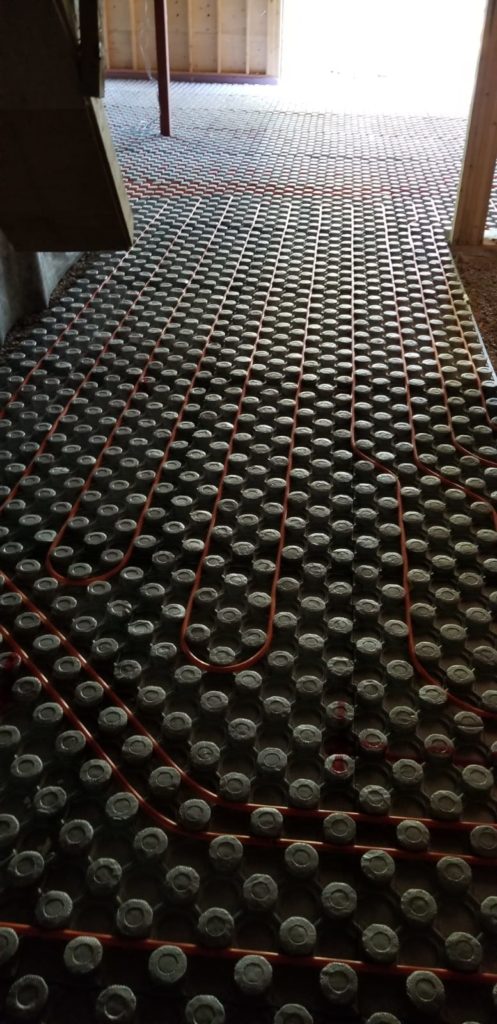 Energy Efficiency of Hydronic Heating Systems
You might wonder why – if you already have a furnace – would you also want to install a hydronic system. The answer is simple – it can save you money. You probably remember from your high school science classes that hot air naturally rises. But most heating systems work from the top down which means they need to expend extra energy to push warm air down into the room. Hydronic systems work from the floor up so they use less energy and can help to bring the room more quickly to a moderate temperature.
Quality of Heat for Hydronic Heating
Have you ever stood on warm sand on a summer's day? If so, you know how nice it can feel. This is called radiant heat – the same type of heat that is used in a hydronic system. Systems that circulate the air use a convection heat which can dry out the air and circulate airborne pathogens and allergens. This can lead to unpleasant side effects such as dry skin and irritated sinuses.
Radiant heat which is used in hydronic systems, on the other hand, gently warms a room without causing any of these negative effects.
And of course, the added benefit of having warm hydro tubes directly under the flooring, is no more having to walk on cold floors first thing in the morning!
Other advantages of hydronic heating for your Hamilton home
In addition to increased energy efficiency and heat quality, there are also several other advantages to choosing hydronic heating which include:
Reduced pollution as these systems do not use fossil fuels.

Can be zoned from room to room in order to provide maximum comfort and efficiency.

These systems make virtually no noise.

Can be used in new home constructions or can be installed in existing homes.

Hydronic heating products can be used with virtually any type of flooring including hardwood, tile, linoleum, carpet, etc.

Once installed, the system is completely hidden and takes up no wall space.

Airbone particles and allergens are significantly reduced.

Once installed, these systems require virtually no maintenance.

Duct cleaning is not necessary.
Contact Wentworth Plumbing today!
If you are looking for a way to increase your home's energy efficiency and comfort this coming winter and are considering hydronic heating for your Hamilton home, we would love to help. Contact Wentworth Plumbing today for a consultation.
Excellent plumbing company! Patrick and his team are very professional and knowledgeable. The price was very fair and the turn around time was quick. I would highly recommend them and definitely use them again."
We have used Patrick and Wentworth Plumbing for several years, for everything from helpful information to fixing badly installed drains to impossibly plugged toilets. As owners of rental properties, it's important that we have reliable tradespeople who are quick, efficient, friendly, and responsive – Wentworth is definitely all of those things.
Great service as always from this great company! Fast response even for non-urgent problem. We recommend this company to others all the time. Dan was polite and efficient with minimal disruption to our staff and patients! Thanks again!
Contact Us
For general inquiries, please fill out the form below.
We'll respond as soon as possible.